Location | Topography | Climate | People | Fact Sheet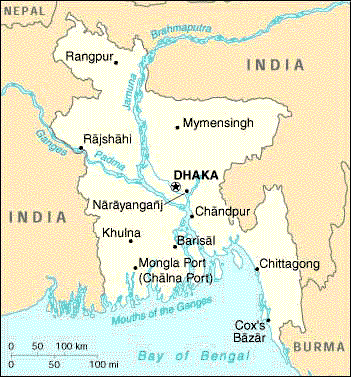 LOCATION
Bangladesh lays between 20"34' and 26"38' North Latitude and 88"01' and 92"41' East Longitude with a total landmass of 1,47,570 square kilometers. Bangladesh is surrounded by India on the west, north and northeast, Myanmar on the southeast, and the Bay of Bengal on the south.Bangladesh acts as a bridge between South Asia and Southeast Asia.

Bangladesh is the largest deltaic region in the world with most of its parts, at low elevations. It is a riverine country criss-crossed by innumerable rivers, rivulets and their tributaries. It is divided into five physical regions- the Ganges Delta proper to the southwest, the Paradelta to the northeast, and the southeast undulating Chittagong region.

The Ganges Delta is geologically the most recent compared to other regions. Mangrove forests thrive in the active lower delta, which is flooded by fresh tidal waters. The soil base is new alluvium.

The Sundarban, a former site for tiger hunting, is the largest mangrove forest (around 6000square kilometer) in the world. The Paradelta, like the delta proper, is a plain, but its elevations are higher, at 100 to 300 feet (30 to 90 metres) above sea level. Its soils are varied, silt and sandy clays, and old alluvium. It lies between the Ganges and the Jumana rivers.

The East Central plains, with the Meghna river almost at its center consists of plains and active floodplains in which the main rivers, including the Brahmaputra, have altered their channels in the past. At the center of this plain lies Madhupur forests. To the northeast is the Meghna depression, part of which is only 10 feet (3 metres) above sea level.
CLIMATE
Bangladesh has a tropical monsoon climate with heavy summer rain and high summer temperatures. Winters are dry and cool. South and southwest winds dominate from mid-April to mid-October and bring enormous amounts of moisture from the Indian Ocean and the Bay of Bengal: 95 percent of the total rainfall, which averages about eighty inches (2,040 millimetres) occurs during that period. The temperatures range from an average of about 68 F (18C) in January to about 86 F (30C) in April.
Bangladesh is one of the world's mostly densely populated countries in the world. Its population is 128.1 million people with an average density of about 755 people per square kilometer. About 85% of the population lives in rural areas. Bangladesh is a model of religious harmony and tolerance. Different religious communities and groups live in peace and the minorities are well represented in all tiers of society as well as in the government machinery. Islam is the predominant religion with over eighty percent of the people adhering to it. Hindus comprise about ten percent of the population. The rest are Buddhists, Christians and animists.
FACT SHEET
| | |
| --- | --- |
| Official name : | People's Republic of Bangladesh |
| Capital City : | Dhaka |
| Population : | 128.1 million (2002) |
| Language : | 95 % Bangla and 5 % other dialects, English is widely spoken |
| Country Domain : | ".bd". Authorised extensions are com.bd, net.bd, edu.bd, org.bd, gov.bd & mil.bd |
| Currency unit : | Taka. 1 Euro = 60 Taka (2002) |
| GDP : | Taka 271124 Crore |
| GDP per capita : | $ 362 |
| Principal Crops : | Rice, wheat, jute, tea, tobacco, sugar cane and pulses |
| Educational Institutions : | Govt. universities-11, Non-govt. universities-16, Colleges-3032, engineering colleges-4, Polytechnic Institutes-20, Govt. Medical Colleges-13, Non-govt. Medical Colleges-9, Secondary Schools-12858, Primary Schools- 77685. |
| Employment force : | 56.0 million, Male 35.0 Million, Female 21.0 million. Percentage of Labour Force: Agriculture- 63.2, Industry-7.7, Others -29.1 |
| Form of Government : | The country has a parliamentary form of government headed by the Prime Minister. The President is the Constitutional head of the state. |
---
Home | L'Ambasciata | Bangladesh | Servizi Consolari | Investmenti
Commercio| Turismo | Organizzazioni Internazionali a Roma| Link Utili
Archivio | Notizie | Contattaci | Guestbook | Site Map | Disclaimer